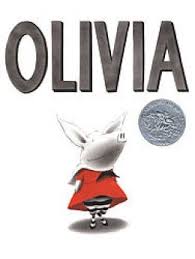 Olivia
by Ian Falconer
I have been meaning to put some of my favorite books on this blog for some time. A bookstore was going out of business near my home so I was able to snag a few of my favorite children's classics for half price. I cannot tell you how much I love books and I hope to instill that same love in my boys at an early age.
I love the idea of snowmen coming alive at night and having fun outside while we are all sleeping. The illustrations are beautiful and there are hidden objects on each page for extra fun when your child is a little older.
The Paper Bag Princess
is a silly book that my 4 year old loves and laughs all the way through. I love the conclusion of this book.
Olivia
is a delight. My favorite part is when she has to keep moving her cat. Her attempts at modern art are great as well. The last lines as Olivia is going to bed are so cute too, it's something my kids would definitely say to me. I have a couple of friends with daughters named Olivia....get this book for them if you don't already have it!